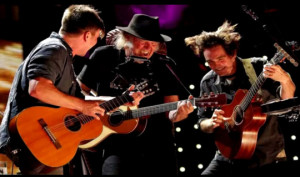 The audio to songs performed by Neil Young and Promise of the Real are up on Michael Goldberg's Blog: "Days of the Crazy Wild" and up on You Tube.
He writes:
"Some of the songs, such as the one that may be called "If I Don't Know," is quite good — one of his best in some years. Others are more like political rants that, at least on initial listen, don't hold up. It's admirable that Young wants to use the platform he has to deliver political messages, but at times his songs suffer because it seems the message is more important than the song. Also, while GMOs are an issue, they pale besides the horrendous impact of animal agriculture on climate change and out environment and I wish Neil Young would get him to the biggest cause of climate change and focus some of his political energy on it."
Or is that just too hot a topic for Neil Young to address.
Read more here: http://www.daysofthecrazy-wild.com/audio-neil-young-willie-nelsons-sons-live-at-slo-brewing-co-full-set/
Here's one of the audios: "Big Sky Wolf Moon"