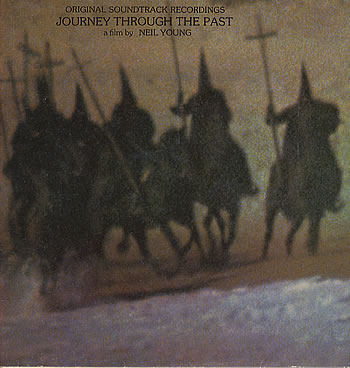 A review of the new movie "Inherent Vice" in the magazine "Uncut" says Neil Young's Young's "Journey Through The Past" is critical to the film.
But we learn little else about the soundtrack, other than it is provided by Jonny Greenwood,  and is said to be: " a beguiling mix of his own compositions (check out the loose, burbling rhythms of "Shasta Fey") alongside Can and Neil Young."
The film by Paul Thomas Anderson is based on a Thomas Pynchon novel, and is described as: a crazy, out-of-whack principality where the funky hippie vibes of the previous decade have been replaced by Nixon, Manson, Vietnam, urban riots and assassinations. Anxiety and remorse are the principal emotions. There's a sticky, faintly claustrophobic tone to the film, with its talk of "karmic thermals" and heroin addicts, midday naps and shapeless days. As one character says in voiceover, "American life was something to be escaped from."
Uncut critic Michael Bonner writes: "in the middle of all this is muttonchopped private eye Larry 'Doc' Sportello (Joaquin Phoenix), sporting what look conspicuously like a succession of Neil Young's cast offs from the Buffalo Springfield days.
Bonner says Anderson uses the soundtrack to highlight flashbacks of Sportello and Shasta in happier times. "But it also serves to articulate a deeper subtext at work in Pynchon's novel; the sadness of lost potential. Pynchon seems to suggest that "the ancient forces of greed and fear" at work in today's world have their roots in California during the period the film is set in," he writes.
This review is steeped in jargon and if you can get much out of it, more power to you. Really annoying when writers don't just talk straight, instead of the pseudo-intellectual jargon.
Read more at http://www.uncut.co.uk/node/21149#gHh0gGidAWlF77pY.99