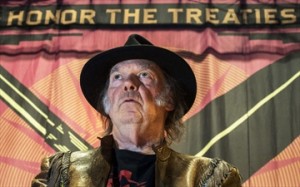 "It is like a war zone, a disaster area from war, what's happened up there," Young told a news conference ahead of his Winnipeg concert.
Thespec.com is reporting that Neil Young did not accept an invitation from a petroleum producers group to meet before his final concert to raise money for opponents of Alberta's oilsands.
The Hamilton Spectator is located in  Hamilton, Ontario, Canada.
The Canadian Association of Petroleum Producers issued a statement today (Sunday Jan. 19)  saying it offered to "have a balanced discussion" Young and the chief of a first nation that is fighting oilsands development, according to Thespec.com.
But a representative of Young and Athabasca Fort Chipewyan First Nation Chief Allan Adam offered an alternative that was unacceptable, CAPP said.
"Young's representative suggested oilsands producers participate in Neil Young's media conference today, but when CAPP requested a neutral moderator and equal representation, the organizer said this was not acceptable," the CAPP statement said.
His tour wraps up tonight in Alberta, the province with the most at stake in the debate over the economic and environmental effects of oilsands development.
Young remained unbowed throughout the week of benefit concerts for the Athabasca Fort Chipewyan First Nation and warned on Thursday that Alberta could end up looking "like the moon" if land isn't preserved.
Read more at:
http://www.thespec.com/whatson-story/4324064-neil-young-concludes-anti-oilsands-concert-series-with-show-in-calgary/