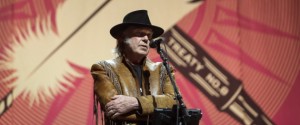 Singer Neil Young says his controversial anti-oilsands tour has passed its $75,000 goal to raise money for a northern Alberta reserve's fight against oilsands development, according to Huffpostmusic Canada.
"The tour has been a great success," Young said at a press conference today in Calgary, just prior to the last of four fundraising concerts.
"Awareness was raised. Now Canada must respond in the courts," he added, referring to a lawsuit launched by the Athabasca Chipewyan First Nation against Shell Canada's expansion of its Jackpine mine, a project even Ottawa has admitted will likely cause significant adverse environmental effects."
Proceeds from Young's tour will support the first nation's legal defence fund.
Read more at:
http://www.huffingtonpost.ca/2014/01/19/neil-young-concert-tour-anti-oilsands_n_4628851.html