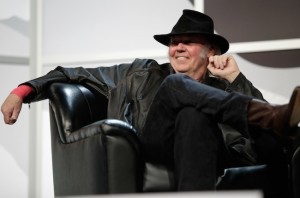 Neil Young tells Billboard we can expect to hear "A Letter Home," the album he recorded at Jack White's Third Man studio in Nashville, "very soon," most likely this spring. 
The idea for "A Letter Home" appeared to be hatched by a version of Bert Jansch's "The Needle of Death," which Young recorded for Record Store Day 2013 in White's 1947 Voice-o-Graph booth. "They're songs that I love, songs that changed my life, songs that made it so that I understood what someone else was saying to me, songs by greater writers."
Also,  if Young has his way, he'll also do something symphonic in the near future.
"I'd like to make a record with a full-blown orchestra, live — a mono recording with one mic," he explains. "I want to do something like that where we really record what happened, with one point of view and the musicians moved closer and farther away, the way it was done in the past. To me that's a challenge and it's a sound that's unbelievable, and you can't get it any other way. So I'm into doing that."
Young is also in "the final editing stages" for his second book, "Special Deluxe," a follow-up to his 2012 memoir "Waging Heavy Peace." This book, Young says, will be out this year and "focuses on my life as regards to my transportation, as regards to my love for cars. So it's a history through automobiles, and it's a history of automobiles and it's a history of the environmental impact of automobiles. And it's a projection into the future of automobiles. It has it's own agenda that develops over the book."
Read story at: http://www.billboard.com/articles/news/5930484/neil-youngs-agenda-jack-white-project-second-book-full-blown-orchestra-album