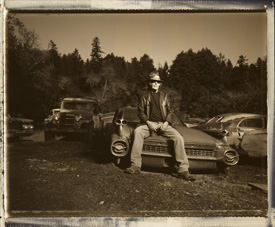 Freelance writer and former editor of Toronto Star Wheels Mark Richardson writes about Neil Young being named Toronto Star Wheels' Newsmaker of the year.
"For playing concerts in January, writing a book and spreading his message through the year, and for actively promoting alternative fuel — while never forgetting that cars are really cool — Neil Young is Wheels' Newsmaker of 2014," Richardson writes.
He quotes Young:
"I've had a lot of cars and I bought cars as rewards for projects that I did . . . They were all old cars so they already had a history. And the designs reflected the culture of the time," Young told the Star's Ben Rayner in an interview this year.
Richardson writes about  Special Deluxe: A Memoir of Life & Cars and the stories about the cars Young has owned, "all of them bought used and all of them interesting."
"His new book is a chronicle of his experiences as told by the memories his cars invoke, everything from a Mini and a Citroen 2CV to a Corvette and a Hummer H1. Throughout it, he details the fuel consumption and the exhaust emissions of the vehicles. His family's 1951 road trip to Florida in their new Monarch sedan, for example, spewed about 1,296 pounds of CO2 into the atmosphere each way; that Route 66 drive to L.A. in the hearse would have emitted 4,900 pounds of CO2."
Eventually, in 2003, a friend of his daughter's called him a hypocrite for being an environmentalist who drove such gas-guzzlers, and the accusation stuck. He resolved to find alternatives to gasoline for his cars and diesel for his tour buses.
Richardson writes: "His message is not against cars, which he loves passionately, but against the fuel that powers them. 'We can have as many cars as we want, as long as the highways can hold them,' he told the Star, "but we have to think smart about how they run."