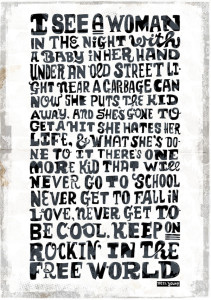 When Donald Trump strode on to the stage at Trump Tower on Tuesday to announce that he would enter the Republican race for president, a rock and roll anthem blared: Neil Young's "Rockin' in the Free World," reported Mother Jones On June 16.
David Corn writes: "It was an odd choice, given that the 1989 song seemed to slam a Republican administration for not giving a damn about the poor.  And Young has taken exception to Trump's appropriation of his tune."
A statement issued to Mother Jones for Young by his longtime manager Elliot Roberts suggests Young was not pleased by Trump's use of the song:
Donald Trump's use of "Rockin' in the Free World" was not authorized. Mr. Young is a longtime supporter of Bernie Sanders.
Source: <a href="http://m try this site.motherjones.com/politics/2015/06/neil-young-donald-trump-bernie-sanders" target="_blank">http://m.motherjones.com/politics/2015/06/neil-young-donald-trump-bernie-sanders