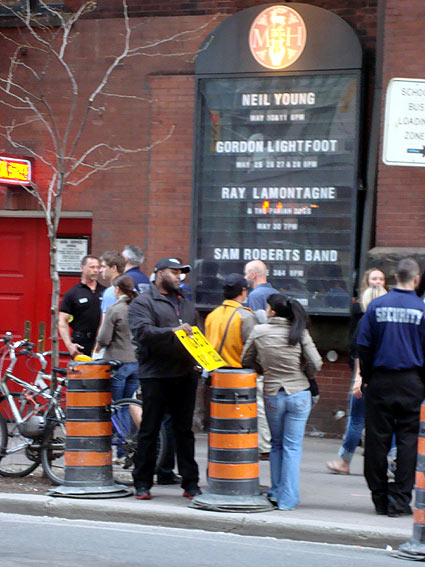 MAY 11 SHOW
I previously posted about Neil's concert at Massey Hall on Tuesday night. I also attended his show on Wednesday night.
Both of these concerts really meant a lot to me. My very first live Neil show was at Massey Hall in 1971 — 40 years ealier. (Here we are in the years. Yikes!) I had also attended two of his three shows at Massey Hall in 2007.
I was really into Neil's performances. I loved all the songs from "Le Noise" and felt they were the highlight on his setlist. His encore number. "Walk With Me," was really what it was all about in a nutshell. He was inviting audience members to "walk with him" on his musical journey. I loved the big sound and the sonic-like endings of the songs from "Le Noise."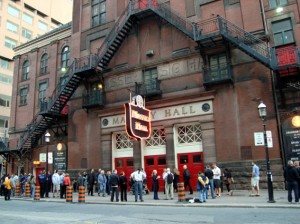 I must admit that I enjoyed Tuesday night's performance more than Wednesday's. I had a decent seat on the floor for Tuesday, but had an obstructed seat in the left balcony for Wednesday. (A pillar was directly in front of my line of vision. I had to lean over to the left or right to get a clear view of the stage.)
To add insult to injury, I had the misfortune of having two stinking drunk guys sitting right beside me. (They were much worse than the two drunk guys I had sitting next to me on Tuesday night.) I heard them walk into the left balcony area and stumble around lookng for their seats. In my mind I was thinking, "Please don't let them be seated beside me, please don't let them be seated beside me."
My wishes were for naught, because they did have tickets for the seats directly on my left. The guy sitting beside would not shut up the entire evening. And it got worse as the evening progressed. He was talking loudly during Neil's songs, shouting out requests, clapping loudly and singing, and voicing his general disapproval that Neil wasn't playing his "greatest hits." And this was after Jonathan Demme politely asked audience members to refrain from doing exactly what this drunk guy kept doing. He tried to engage me in his conversation, but I would only say "Sh-h-h-h!" as a response. When I did that it prompted him to say aloud, "Why is that lady saying Sh-h-h-? Whoever heard of being quiet at a Neil Young concert?" He also reeked of beer and kept leaning over towards me. I tried to disregard him the best that I could and try to focus my attention on Neil.
On the whole, I think the audience was better behaved on Wednesday night. You could hear other people saying "Sh-h-h" if someone else in the audience shouted out to Neil. Unfortunately, one of the worst offenders seemed to be sitting right beside me.
I also noticed that a lot of people around me were attempting to take photos with their cell phones. There were also a number of people who seemed to be  continuously checking their e-mail or sending text messages. It was as if they couldn't go for five minutes without checking their e-mail. I thought that was very disrespectful and rude. The ushers were kept very busy watching out for any camera flashes or for people taking photos with their cell phones.
I was very respectful of not taking any photos and, consequently, I only took photos at the Rustfest on Wednesday and some exterior shots of Massey Hall.
I felt quite embarrassed about the crowd's behaviour on both nights.  (Although Wednesday was generally better than Tuesday.) On Tuesday night I recall that someone yelled out loudly to Neil during one of his quiet songs and it made him lose his concentration and flub a line. (I think he repeated one of the lines or missed a line.)
I also felt very bad for Neil. It was an honour that Neil selected his two Massey Hall gigs to be filmed by Jonathan Demme. He was expecting the audience to appreciate the shows in a respectful manner and I felt that we had let him down.
It wasn't like the Toronto audience I recall from attending his 1971 gig. I remember when I was at that show that you could hear a pin drop when Neil was singing. (I recall that this was most distinct when he was playing "Journey Through the Past.")
I hope that Jonathan Demme is able to piece together some decent footage that isn't marred by noisy disrespectful audience members' call-outs, loud whistling or lame requests.
<END OF RANT>
Sharry (Up in T.O. keepin' jive alive)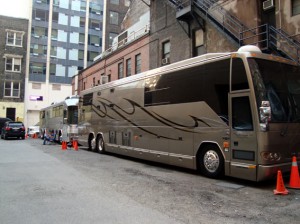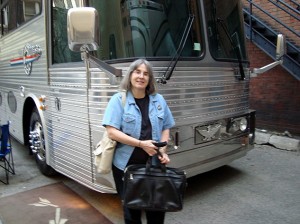 [click on all images to see them full-size]
goto Sharry's review, part 2.