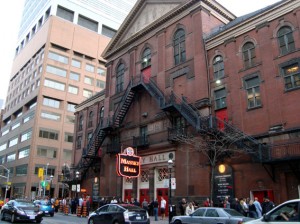 MAY 10 MASSEY HALL SHOW
I had a great time at Neil's show tonight at Massey Hall. The setlist remained the same as at his recent shows. No complaints from me since it was the first time I had seen one of his Twisted Road Tour shows.
I had a seat in Row I on the floor off to the left side.  (I was seven seats in from the extreme left aisle.) One of the cameras was set up a few rows behind us in the aisle.
Just by chance another Rustie sat next to me; Gerry Peters who also attended the Rustfest at the Pickle Barrel.  We had 12 people attend and expect about the same number tomorrow. It was great seeing everyone and I look forward to the Rustfest tomorrow. My seat is in the centre balcony area, Row J.
After the lights went off and Bert Jansch began his performance I noticed a person wearing a familiar looking white jacket with a few colourful (red, green and grey) horizontal stripes walking up the extreme left aisle. My Bob Young radar was finely attuned and I knew it was him as soon as I got a glimpse of his jacket (in the dark yet! 🙂 ). He was wearing the same jacket that he wore when he dined at the Chemong Lodge in Bridgenorth (near Peterborough) with Neil last October when he also paid a visit to the Youngtown Museum.
(See Bob Young wearing the same jacket below.)

Bob Young was seated a row or two behind where I was sitting, but more towards the middle of the audience. (Note: Greg Keelor of Blue Rodeo was sitting nearby and I saw him chatting with Bob Young. At Neil's last shows at Massey Hall in November 2007 I saw Jim Cuddy of Blue Rodeo in the audience and spoke with him for a few minutes and got his autograph.)
I decided to go up to him after Bert Jansch's set and thank him for his work as one of the Executive Producers, along with Jan Haust, on "This Wheel's On Fire." I got his attention, introduced myself, informed him that we had met previously, and thanked him for his efforts as the Executive Producer and told him that I really enjoyed "This Wheel's On Fire." I then shook his hand, smiled and left to use the washroom facilities and get a fresh bottle of water.
Back to Neil… He came on-stage at about 9:10 p.m. He seemed really engaged with the audience and was very gracious with his waves, smiles and hand gestures. (He made the Namaste gesture where he bowed a bit and held his hands together in the inverted "V" shape after playing "Cinnamon Girl.")
He made some really amusing comments while introducing "Leia," which he said was for all the "Little People."
His references to Ontario and Toronto went over very well and received a lot of enthusiastic applause. ("There is a house in North Ontario" and "You didn't see me in Tarawna when I first tried out some hash.") There were numerous shout-outs by audience members of "Welcome home, Neil!" and the like.
There were also some boorish audience members who shouted out requests, whistled and hollered during inapproriate moments and talked when Neil was playing. I had a few of them sitting beside me to my left and they were really irritating. They had obviously had one too many beers and one of them got up at least three times to exit the hall and then return, making everyone stand up to let him get back to his seat.
I noticed that Neil was really into using the "Le Noise" sonics at the end of this songs and I thought it was very cool. "Hitchhiker" was really powerful and amazing. I also really enjoyed "Love and War," "You Never Call," and "Peaceful Valley."
I didn't take a camera along because I thought Massy Hall might be really strict about allowing people to bring in cameras because of the filming. That turned out not to be the case. It appeared that they weren't checking very thoroughly at all. I plan to bring my camera tomorrow. (I won't use it during the show — just at the Rustfest and for some exterior photos of Massey Hall, Neil's bus, etc.)
I discovered that cold bottles of water were also being sold at the Coat Check downstairs. (Instead of having to line up at the crowded bar downstairs.)
After the show I went downstairs to the merchandise table and purchased the Le Noise Flip Book and a black baseball back for Bob. I showed it to Bob when I got home and he really liked it.
I'm looking forward to the Rustfest and Neil's concert tomorrow night.
Sharry (Up in T.O. keepin' jive alive)
goto Sharry's review, part 2.