Posts Tagged 'Biarritz'
Neil Young & Crazy Horse – Heart of Gold + Human Highway + Blowin in the Wind – Biarritz 2013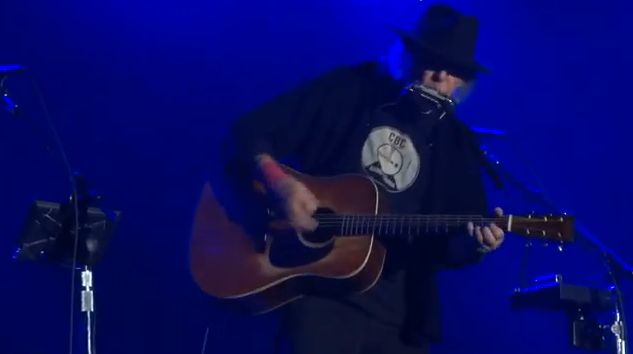 Neil Young w/ Crazy Horse Set List – 2013-07-18 Big Festival, Biarritz, France
Love and Only Love, Powderfinger, Psychedelic Pill. Walk Like a Giant, Hole in the Sky, Heart of Gold, Human Highway, Blowin' in the Wind, Singer Without a Song, Ramada Inn, Sedan Delivery, Surfer Joe & Moe the Sleaze, Rockin' in the Free World, (Encore) Mr. Soul, Hey Hey,  My My (Into the Black).
Tour: 2013 Alchemy Tour with Crazy Horse – Europe
Band: Crazy Horse, Line Up 3
Neil Young – vocals, electric guitar, acoustic guitar, piano, harmonica
Frank Sampedro – electric guitar, acoustic guitar, vocals
Billy Talbot – bass, vocals
Ralph Molina – drums, vocals
Neil Young & Crazy Horse performed 'Human Highway' at Stade Aguilera in Biarritz, France on Thursday, July 18  night as part of the 2013 European Alchemy tour.
Young has only performed the song live 13 times in the past 30 years plus another three times with Crosby, Stills, Nash & Young, twice in 2003 and once in 1989, according to www.noise11.com.
The setlist from the evening includes:
Love and Only Love (from Ragged Glory, 1990)
Powderfinger (from Rust Never Sleeps, 1979)
Psychedelic Pill (from Psychedelic Pill, 2012)
Walk Like A Giant (from Psychedelic Pill, 2012)
Hole In The Sky (new, unreleased)
Heart Of Gold (from Harvest, 1972)
Human Highway (from Comes A Time, 1978)
Blowing In The Wind (from Weld, 1991)
Singer Without A Song (new, unreleased)
Ramada Inn (from Psychedelic Pill, 2012)
Surfer Joe and Moe The Sleaze (from Re*ac*tor, 1981)
Sedan Delivery (from Rust never Sleeps, 1979)
Rocking In The Free World (from Freedom, 1989)
Mr Soul (from Buffalo Springfield Again, 1967)
My My Hey Hey (from Rust Never Sleeps, 1979)
Read more at: http://www.noise11.com/news/neil-young-resurrects-human-highway-in-france-20130720