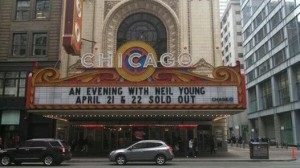 Review of first Chicago show. Neil plays again tonight, Tuesday April 22. More reviews from Human Highway roving reporter to come.
Chicago Tribune review of the Monday, April 21 Neil Young solo acoustic show starts:
"His eyes shaded by a black fedora, Neil Young strapped on a guitar that  once belonged to Hank Williams Sr. and leaned in, as if ready to whisper in someone's ear.
'Come a little bit closer, hear what I have to say,' he sang near the end of his sold-out concert Monday at the Chicago Theatre."
http://articles.chicagotribune.com/2014-04-22/entertainment/chi-neil-young-concert-review-20140421_1_neil-young-buffalo-springfield-chicago-theatreRead the entire review here:
Setlist:
Neil Young
2014-04-21 Chicago Theatre, Chicago, Illinois, USA
Solo
01. From Hank To Hendrix
02. On The Way Home
03. Only Love Can Break Your Heart
04. Love In Mind
05. Mellow My Mind
06. Reason to Believe
07. Someday
08. Changes
09. Harvest
10. Old Man
—
the second set opened with some sort of spoken "H
ippy Beatnik" poem by Neil
11. Pocahontas
12. Cortez The Killer
13. A Man Needs A Maid
14. Ohio
15. Southern Man
16. Mr. Soul
17. Harvest Moon
18. If You Could Read My Mind
19. After The Gold Rush
20. Heart Of Gold
—
21. Thrasher
Tour: 2014 Solo Tour
Band: Solo
Neil Young – vocals, acoustic guitar, 12 string acoustic guitar, piano, pump organ, harmonica
 Thanks to Tom Hambleton at Sugar Mountain: