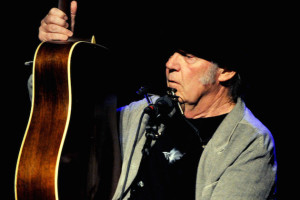 WOW. Thrasher's Wheat had the honor of publishing the best Neil Young concert review ever by Bucks Burnett, who attended the April, 18, 2014 solo acoustic show at the Meyerson Symphony Center in Dallas, Texas.
To read journalism like this is to be in the presence of greatness. WOW again.
Sit back and enjoy the read of your life.
It's titled: "Why I'm Not Here Anymore."
"Last night was not a concert. It was a congregation being blessed by snake oil from a traveling salesman. But this guy carries the real stuff because we are healed from our earthly concerns. This was a very rare example of paying $200 for a four million dollar show. He took us away and we are not coming back. I do not want to hear music today or talk to people today. Or be seen. I want to be alone with this vibration in my soul."
Read the rest here:
http://neilyoungnews.thrasherswheat.org/2014/04/maybe-best-neil-young-concert-review.html?showComment=1398100424119
Thanks to BH, who was also at the concert, and agrees.