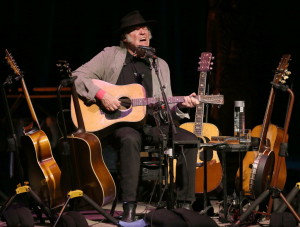 What the fuck is wrong with these people attending Neil Young's solo acoustic shows?
Dallas Morning News music reviewer  Robert Wilonsky attending Thursday night's first of two shows in Dallas as had this to say: (Neil plays again Friday night)
I would love to share with you the story Neil Young told Thursday night about his Martin D-28, which once belonged to Hank Williams and shared the Morton H. Meyerson Symphony Center stage with him on what was for the most part a very special night. But I can't, because Young wasn't allowed the opportunity to share the tale. He tried. He held "Hank" in his hands and began recalling that trip to Nashville, when, from the balcony, to Young's left, a man began shouting: "Play it! Play it!" At which point the 68-year-old who's been making music since high school reminded the crowd that no one tells Neil Young what to do.
"I don't think I'm gonna play it," he said. Beneath his black wide-brimmed hat, he grinned a little. But you could tell: He was not pleased. The heckling continued, because this is just what some people do: spend hundreds of dollars to see their heroes, only to steal their spotlight.
"What, do I work?" Young said, the good humor now completely gone from his voice. "Is this a job? I'm trying to recall the last time I did something expressly because someone told me to do it." The rest of the crowd cheered, almost as though it were trying to distract Young or jolt him back into the jovial mood he'd been in moments earlier, following a version of "Mr. Soul" played on a pump organ. Instead he just played the next song: "Harvest Moon," one of the more beautiful entries in a canon filled with tenderhearted melodies. But Young strummed the guitar a little harder than usual, and didn't so much sing its simple, sentimental lyrics ("When we were lovers/I loved you with all my heart") as he did spit them out.
Read more here:
http://popcultureblog.dallasnews.com/2014/04/neil-young-gave-his-heart-and-soul-thursday-and-some-folks-just-gave-him-a-hard-time.html/