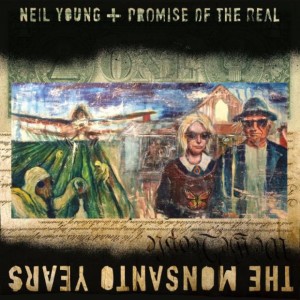 Neil Young has just revealed the track list and album cover for his next album, The Monsanto Years, due out June 29.
The album is a collaboration with Promise of the Real, a band that includes Willie Nelson's sons Lukas and Micah.
According to Brian Ives, writing at Radio.com, here's the tracklist for The Monsanto Years.
Neil Young The Monsanto Years Tracklist
1. A New Day For Love
2. Wolf Moon
3. People Want To Hear About Love
4. Big Box
5. A Rock Star Bucks A Coffee Shop
6. Workin' Man
7. Rules Of Change
8. Monsanto Years
9. If I Don't Know
The album cover  is a painting of Young with a woman who looks to be his current paramour, Daryl Hannah, posed in a tribute to "American Gothic."
And it's unlikely that you'll hear the album on the sound system at your local Starbucks. That's because the first single, "A Rock Star Bucks a Coffee Shop" is a bit critical of the chain.  You can watch the video at Democracy Now; the song includes lyrics like "Yeah, I want a cup of coffee but I don't want the GMOs/ I'd like to start my day off, without helping Monsanto" (tip: to see the clip, fast forward to about 26:30 into the video).
Young and Promise of the Real kick off a U.S. tour July 5 at the Milwaukee Summerfest. See the tour dates Rebel Content Tour