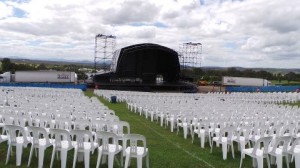 According to some reviews from the current Australia shows by Neil Young and Crazy Horse, people have mixed feelings about the music, the loud and raunchy Crazy Horse guitar storm.
from: Neil Young confounds expectations
www.brisbanetimes.com.au/entertainment/music/neil-young-confounds-expectations
"Forget the six string sing-alongs that is musical bliss"
"Maybe things haven't gone so well on the first two shows on the tour.
Whether the majority of the audience enjoyed proceedings was another thing entirely. A lot left early. Many seemed to be expecting something else.
Like the guy behind me who left before the final encores who told his friend:
"I thought he'd do a lot more acoustic stuff."
Pretty sure Neil would get a kick out of that."
I mean, what do they expect? Don't they have Internets Down Under? Setlist-spoiler unwithspoken, if you are a Neil fan and go to a Neil Young and Crazy Horse show, you should know that it won't be an acoustic sing-along of old "hits", and you would not have missed the latest album "Psychedelic Pill" or the video clips of the last American "Alchemy" tour.
They even played a new song: "Hole In The Sky." That's nevertheless rather an acoustic one…
Thrasher also has a nice discussion about this phenomenon:
Doubters: There's A Hole in the Neil Young Fanbase
and the Rolling Stone: Neil Young and Crazy Horse Play 'Hey Hey, My My' at 2013 Tour Kick-Off
Brisbane setlist | Current Neil Young and Crazy Horse tour in Australia and New Zealand |