So far one concert venue has issued a press release stating that ticket-holders who wanted to see Neil & The Horse play will received a partial refund.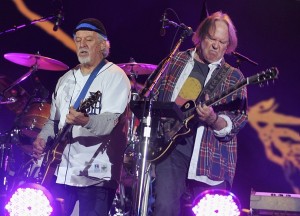 September Seventh Entertainment Limited announced  at a press conference that the Greenbelt Harvest Picnic will be offering partial discounts to Picnic ticket holders in light of the cancellation of Neil Young & Crazy Horse.
A press release states more acts will be added.
Canceled tour dates include:  The August 31, 2013 Greenbelt Harvest Picnic at Christie Lake Conservation Area in Ontario; Sept. 2  with Patti Smith at Capitol Theatre in Port Chester, NY (promised to be the smallest place that Neil & the Horse would have played in recent memory); Sept. 4 Ottawa Folk Festival, Ottawa, Ontario, Canada; and Sept. 7 Interlocken Music Festival at Oakridge Farm in Arlington, Virginia.
Since they are all festivals it's possible none of the ticketholders will get full refunds but we have to wait and see. The ticket question has sparked debate with disappointed fans.