Posts Tagged 'Indian Nation'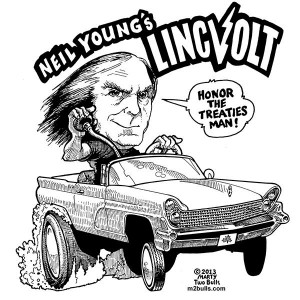 Cool cartoon by Marty Two Bulls at:
http://indiancountrytodaymedianetwork.com/2013/12/15/neil-young-hits-road-first-nations
Random Quote
"" I FEEL YOUR LOVE….
I FEEL YOUR STRONG LOVE
I FEEL THE PATIENCE AMONG CONDITIONAL LOVE
I FEEL A STRENGTH
I FEEL YOUR FAITH IN ME.""
by -- Neil Young
Sugar Mountain setlists
Tom Hambleton provides BNB with setlists, thankfully. His website is the most comprehensive searchable archives on the Internets about anything Neil Young related setlists.
Goto Sugar Mountain
.
BNB has 3017553 Guests, from the new start