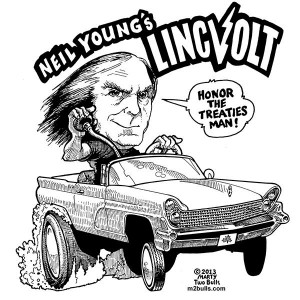 Cool cartoon by Marty Two Bulls at:
http://indiancountrytodaymedianetwork.com/2013/12/15/neil-young-hits-road-first-nations
Random Quote
"
But me I'm not stopping there,
Got my own row left to hoe
Just another line in the field of time
When the thrashers comes, I'll be stuck in the sun
Like the dinosaurs in shrines
But I'll know the time has come
To give what's mine.
"
by -- Neil Young, Thrasher
Thrasher lyrics
Sugar Mountain setlists
Tom Hambleton provides BNB with setlists, thankfully. His website is the most comprehensive searchable archives on the Internets about anything Neil Young related setlists.
Goto Sugar Mountain
.
BNB has 3188136 Guests, from the new start