Posts Tagged 'Marty Two Bulls'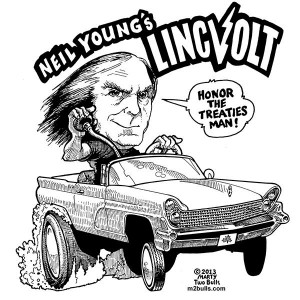 Cool cartoon by Marty Two Bulls at:
http://indiancountrytodaymedianetwork.com/2013/12/15/neil-young-hits-road-first-nations
Random Quote
""Fort McMurray is a wasteland," Young said. "The fuel's all over, the fumes everywhere – you can smell it when you get to town. The closest place to Fort McMurray that is doing the tar sands work is 25 or 30 miles out of town and you can taste it when you get to Fort McMurray," he said. "People are sick. People are dying of cancer because of this. All the First Nations people up there are threatened by this.""
by -- Neil Young
Sugar Mountain setlists
Tom Hambleton provides BNB with setlists, thankfully. His website is the most comprehensive searchable archives on the Internets about anything Neil Young related setlists.
Goto Sugar Mountain
.
BNB has 3188110 Guests, from the new start