Posts Tagged 'Marty Two Bulls'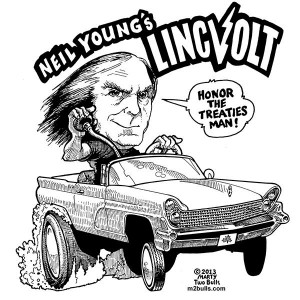 Cool cartoon by Marty Two Bulls at:
http://indiancountrytodaymedianetwork.com/2013/12/15/neil-young-hits-road-first-nations
Random Quote
"Pearl Jam is a band I have a lot of respect for. Nirvana and Sonic Youth I feel the same way about. Mumford & Sons, My Morning Jacket, Wilco, Givers, and Foo Fighters are just some of my favorites. I respect bands that give me something of themselves that I can feel. (\"Posing\" bands turn me off generally speaking.)

It all has to do with a feeling I have about them. That is what music is to me, a feeling. It\'s similar with people too."
by -- Neil Young, Waging Heavy Peace
Sugar Mountain setlists
Tom Hambleton provides BNB with setlists, thankfully. His website is the most comprehensive searchable archives on the Internets about anything Neil Young related setlists.
Goto Sugar Mountain
.
BNB has 2628565 Guests, from the new start