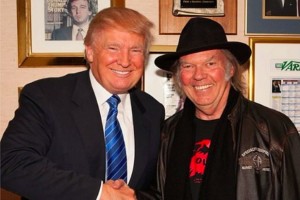 Presidential candidate, controversial businessman Donald Trump, fired back at Neil Young with a series of tweets, called Young out as a hypocrite.
When Trump played Young's  "Keep on Rockin' In the Free World."  twice during his presidential announcement rally, Young reacted with this statement:
"Donald Trump was not authorized to use 'Rockin' In The Free World' in his presidential candidacy announcement," a statement from Young's manager read. "Neil Young, a Canadian citizen, is a supporter of Bernie Sanders for President of the United States of America."
Not one to take a licking sitting down, Trump called out Young for coming to him a few months back, all smiles, looking for some money to back his PONO endeavor.
See tweets below:
For the nonbeliever, here is a photo of @Neilyoung in my office and his $$ request—total hypocrite.