The October 2013 issue of Uncut features a DVD review of  Jim Jarmusch concert documentary "Year of the Horse"  shot in 1996.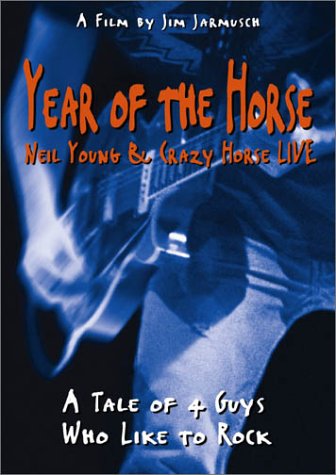 They write: "This isn't older musicians trying to sustain some delusion of youthful potency;  this is a bunch of middle-aged men, led by a surly, stomping guitarist in baggy  knee-length shorts and a nondescript T-shirt.
" But the very lack of  self-conscious stagecraft carries with it the implication that what you're being  given is something purely musical, unmediated by modern digital strategies that  demand everything be a multi-platform, multi-media, interactive experience. It's  pure rock'n'roll, as the introductory tagline explain:
"Made loud to be played  loud. CRANK IT UP!".
It's far from the ideal Neil and Crazy Horse setlist, Uncut opines,  with only a handful of  classics – including a version of "Tonight's The Night" following a segment  about the deaths of Danny Whitten and Bruce Berry – sprinkled  parsimoniously through the show.
But it barely matters: as Young maintains,  "It's all one song," an ongoing flow of music hewn into eight-to ten-minute  chunks. And any technical effects are kept to a minimum, and used subtly, as  when stage footage of the band playing "Slips Away" is blended with a tour bus  shot of passing sky and landscape.
Read more at http://www.uncut.co.uk/neil-young-crazy-horse-year-of-the-horse-review#oOLywI4sU8cO2VW0.99