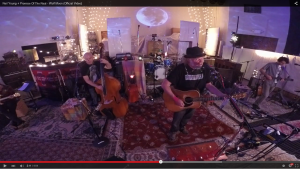 Howling……..
"Earth is not ours. We are of the Earth. That's how I feel. When we plunder our own home we hurt our children and their children after them. I feel responsible. I like to say thank you for the precious gift we have, so when the Wolf Moon rose, I said thank you with this little song."
Neil Young (Posted on his Facebook)
Official video of Wolf Moon, a new song from the soon to be released "The Monsanto Years," with Neil Young & The Promise of the Real (with the Nelson Brothers, Lukas and Micah Nelson).
Note the reference to the crow in the song…